In Perhaps, the worst road accident has been occured from the past 3 days in which 57 people are killed. If the number of road accident increases in the same rate than the day is not so far where we will be saying that the main reason for most of the human death is Road Accident. Last Saturday,
A bus has swerved off a road and plunged into a deep Trishuli river in Ghatbesi. The bus was full with 50 passengers inside and few more were travelling on the roof of the bus. But the actual number of passenger is not clear till now. The bus was on its way to Kathmandu and the incident took place at Ghatbesi,when the vehicle skidded off the road and fell into the river. According to the Preliminary report, 31 people have been killed and 16 are injured.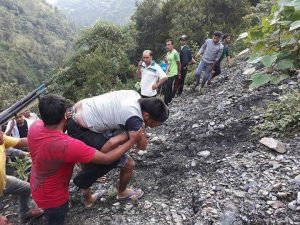 It is not immediately clear about the number of total victims in this accident. It is permeated that the accident was occured when the driver failed to take the high speed bus under control due to the poorly visible road. The roads that are situated close to the bank of river and in hilly areas are thought to be one of the main reason for most of the road accident in Nepal. Not even 3 days were over another accident took place in Gulmi and Udaypur.
According to the source 11 persons were killed when a passenger micro bus met within a accident at Birbas of Gulmi District and 9 were killed in Udayapur road accident. Analyzing the report we found that the main reason behind the accident was due to the carelessness of bus driver and the condition of road. There are more than 6 fatalities per day due to poor roads in the country, and because of reckless driving.